Active weather has returned to the Turnagain area. A sustained southerly flow pattern has brought warm temperatures, strong winds and precipitation to our zone. Ridgetop winds have been blowing out of the east at 15-30 mph with gusts of 40-50 mph since yesterday evening. Weather stations are showing 0.5″ of water at Turnagain Pass and around 1″ in Girdwood in the past 48 hours. The snow line is around 500′ right now, but is expected to rise up to around 1500′ before precipitation passes this evening. There is some uncertainty with how much more snow and rain we will see before this system passes, with best estimates anywhere from 4-8″ near Girdwood, 4-12″ at Turnagain Pass, and  potentially 1-2′ at upper elevations near Portage before all is said and done.
While it may be unclear just how much more snow we will get out of this system, it is safe to say we can expect to see those strong winds building reactive wind slabs, making it likely a person can trigger an avalanche. In addition to the concerns with the new snow, it will be important to remember we have a potential problem layer at the ground. This weak snow was responsible for multiple large avalanches after the last round of snow (more details and photos here, here, and here). This new round of wind and precipitation will be another test of that layer. With rain falling on dry snow up to 1500′, we can also expect to see some wet loose activity in the lower elevations.
It is early in the season and the coverage is still thin. We have limited info on the snowpack, which makes uncertainty high. As active weather continues today, we can expect avalanches to become more likely. Keep all of these things in mind if you are getting out in the next few days, and be on the lookout for clear signs of unstable snow like shooting cracks, collapsing, and fresh avalanche activity. If you get out and see anything, we really appreciate it when you take a minute to submit an observation.
Looking ahead, the next system will follow closely behind this one, with chances for precipitation increasing starting Friday morning. Expect avalanche conditions to become more dangerous with each round of snow and wind. We will issue our next conditions update this Saturday, November 12. We plan on posting 2-3 updates per week until we start issuing daily advisories on Wedneday, November 23. 
Visibility was limited yesterday on Seattle Ridge, but we can see it's blowing and snowing up there. Photo from Seattle Ridge webcams, 11.08.2022.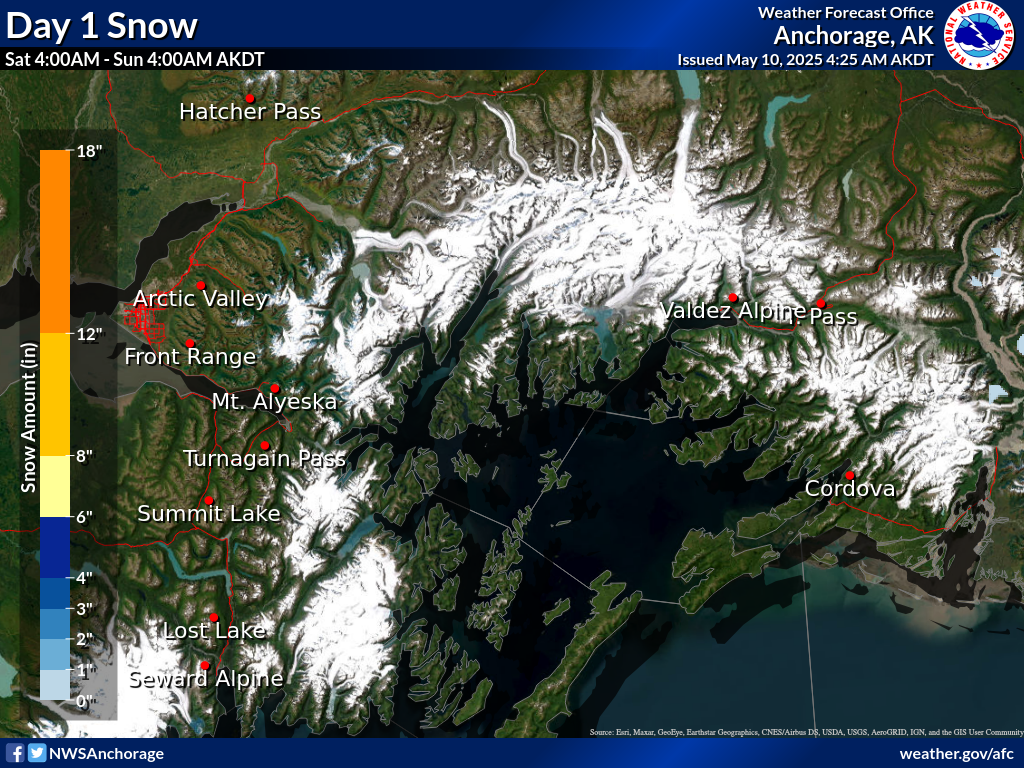 Predicted snow totals through Thursday morning. Source: NWS Anchorage. 11.09.2022